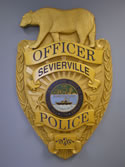 The City of Sevierville is a home rule form of government formed by state charter in 1901. The Chief of Police is appointed by the City Administrator and is the head of the police department which currently serves over 18,000 permanent residents and more than 15,000,000 visitors annually. Officers patrol approximately 24 square miles within the City limits and about 200 miles of City roads daily. The Police Department consists of 74 certified officers, 10 sworn reserve officers, 12 dispatchers, 6 support personnel, and 3 volunteer chaplains.
Mission: To be a model of policing excellence and lead a proactive community partnership to provide for the safety of all persons, prevent crime, protect property, and preserve quality of life.
Vision: We will respect the rights of others, enforce fairly, serve impartially, and oppose all who would bring harm to our community.
Values: Respect for Human Life, Community Service, Fairness, Equality, Veracity, Honor, Integrity, Constitutional Principles, Professionalism.
Goals: Proactively identify and examine problems to develop effective responses, develop lasting solutions through partnerships with individuals and organizations, and efficiently utilize personnel, technology, and material resources in service to the community.
The department is organized into two divisions (patrol and operations) that work in concert to serve the community.
The Patrol Division is comprised of four shifts and operates on a 12-hour rotation, providing continuous police service throughout the city.
The Operational Support Division consists of three components: Dispatch, Records, and Criminal Investigations.Dispatchers are responsible for call taking and distribution of all calls for service to police officers. Records personnel are responsible for entering records information into the central records system as well as gathering, organizing, distributing and coordinating crime information and statistics. The Criminal Investigation Division is responsible for follow-up and investigation of all unsolved crimes that occur in the City.