Sevierville Picnic Pavilions are located in the Sevierville City Park (2), Northview Park, J.B. Waters Park, McMahan Addition Park, next to LeConte Medical Center and at the Municipal Complex. All of our pavilions offer a natural, outdoor setting for family gatherings and social events of all sizes note; power is only available at the Northview Park Pavilion. There is a $15.00 dollar per hour fee to reserve a Picnic Pavilion.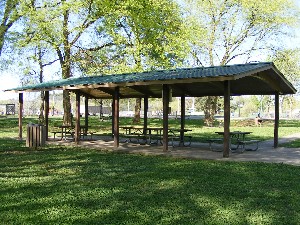 NEW Shade/Picnic Structure
The Sevierville Parks and Recreation Department has now completed the addition of a new Shade/Picnic Structure to our inventory of available facilities to rent at City Park. The Shade/Picnic Structure is located between the Family Aquatics Center and Field #5; but is adjoins the Mt. Ton of Fun Playground. The Shade/Picnic Structure can be reserved effective Feb 19th.
Purpose and Branding
The Shade/Picnic Structure purpose is to increase our overall shelter reservations offerings; as well as provide a location where groups that are using either the ballfields, aquatics center or playground could schedule a small or large event. Since we already have two picnic shelters at City Park (#1 & #2) , I have Branded this new structure with the numbering system as follows: Shelter/Shade-Number #3; but with the option of Shade: A,B and/or C. This gives groups to option to renting one, two or three shades for a function or allows for three different small groups to have a shaded area for a picnic.
Cost for Rental
Rental fees for each section will be $15.00 dollars per hour. If a group wanted to rent two sections, it would be $30.00 dollars per hour; or for three sections it would be $45 dollars per hour.