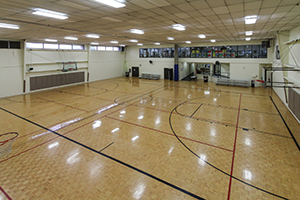 The Community Center has a full-size basketball court that can be converted into two regulation size volleyball courts. There is a daily fee of $1.00 for children/seniors and $2.00 for adults.
Basketball Clinic Sign-ups
The Sevierville Recreation Department is accepting sign-ups for two youth basketball clinics. Each clinic will contain four sessions (December 23rd, 27th, 30th and January 3rd) that will be two days per week for two weeks at the Sevierville Community Center. Both clinic sessions are limited to only ten spots to keep individual attention high.
The "Fundamentals" Clinic will be open for children grades 3-5 who want a thorough understanding of the fundamental skills needed for a successful basketball career. In the 2-week period, we will cover the key components of:
-Shooting
-Defense
-Ball-handling
-Passing
-Rebounding
-Footwork
The "Skills & Drills" Clinic is open for grades 6-8 who have a good grasp of the fundamentals and want to enhance their abilities. In these eight sessions, we will focus on the fundamentals while using accountability tools to help with attacking, confidence and basketball IQ.
Both clinics will be hosted by former SCHS/Tusculum College player, Kendal Baxter. Kendal holds the records of Most 3-Pointers in a Season (105) and Most 3-Pointers in a Game (11) for both Tusculum College and the South Atlantic Conference. She is a member of the 1,000 Point Club at Tusculum and Sevier County High School.
Sign-ups will begin November 27th and will be open until spots are filled. The registration fee is $50/child per clinic. Click here to register.
You may register online anytime until the deadline of December 21, 2019.