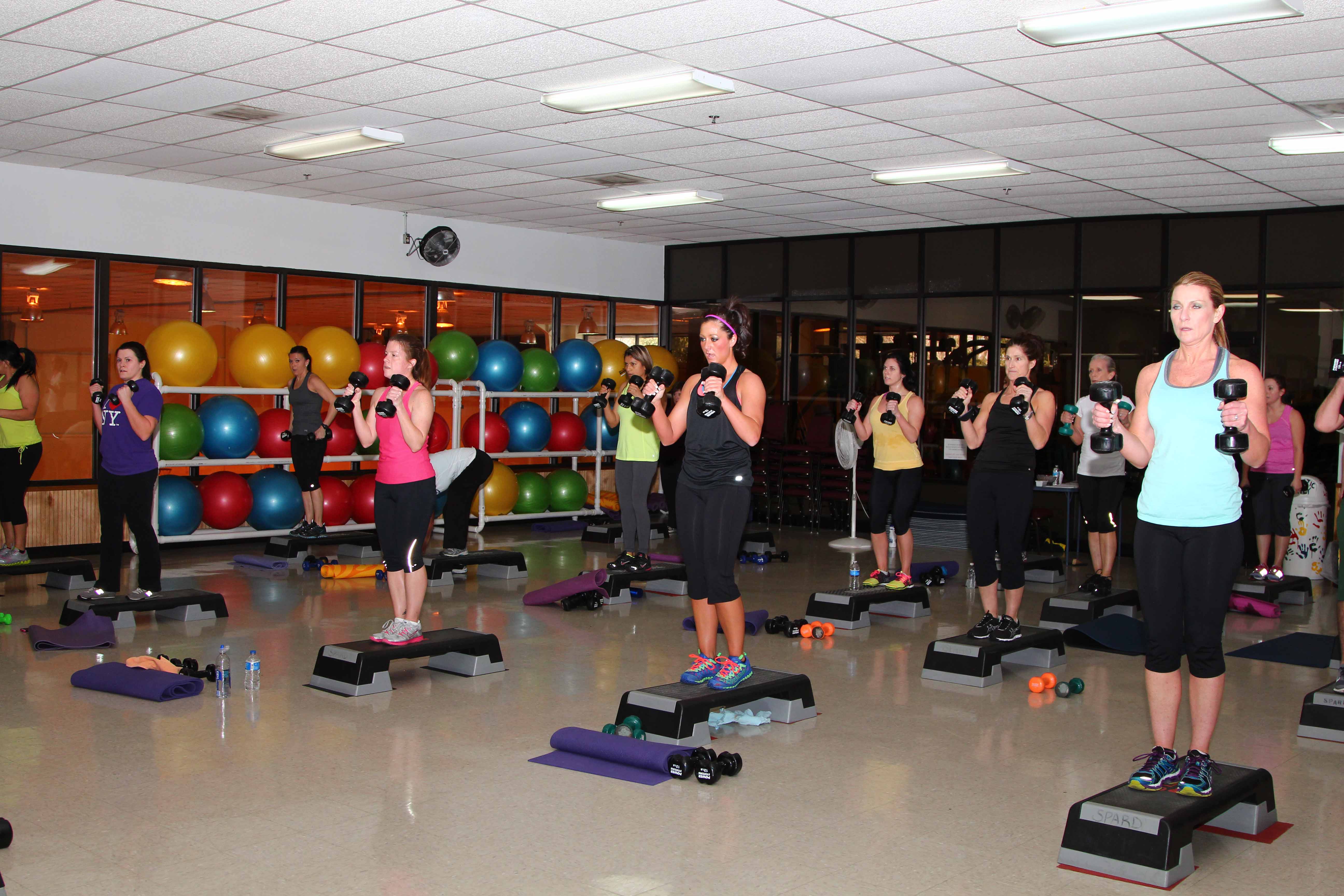 Reservations may be made online at CLICK HERE OR by phone at 865-453-5441. Non-members can pay fees online or upon arrival.
The Sevierville Fitness Center offers classes to fit every fitness level. Choose from water aerobics, toning classes, cycling classes, yoga and more.
Sevierville Community Center - Workout Classes - YouTube Playlist
PLEASE NOTE: Time Changes on August 2021 schedule
All Am Yoga classes: Monday, Wednesday, Friday at 10:00 am
All Evening Yoga classes: Monday - Thursday at 6:30 pm
Wednesday HIIT on Wednesday Aug. 4th is at 5:30 pm
AWT
Aerobic Weight Training, is the ultimate exercise program, this class improves cardiovascular system, burns calories, tones muscles, and improves strength and flexibility. This class combines aerobic exercise and weight training exercise. Both types of exercise are essential for total body fitness. Space is limited, please call in advance if you are planning to join this class.

Beginner

Intermediate

Body Design
Tone and strengthen your muscles using dumbbells, barbells, tubes and medicine balls.

Beginner
Intermediate

Cycling
Ultimate cycling training that will improve endurance. A variety of cycling workouts that target and strengthen the glutes, quads, hamstrings, and calves. Train for optimal health and peak performance.

Beginner




Intermediate




Advanced

HIIT
High Intensity Interval Training: This class will have you training in a technique in which you give all-out, 100% effort through quick, intense bursts of exercise, followed by short, sometimes active, recovery periods.

Intermediate


Advanced

Pedal N Pump
Can't decide if you want to do cardio or strength? Why not do both! Follow our instructors through a vigorous 30-minute cycle class, then move to the Aerobics Room for a 30 minute lifting session that will help strengthen and sculpt your body. Call the Community Center (865-453-5441) on Fridays at 2 PM to reserve your spot.

Intermediate




Advanced

Pure Strength
Build strength, add definition, increase bone density and decrease body fat by INCREASING lean muscle. Research has proven that by adding lean muscle to the body you can speed up your metabolism and burn more calories working out and at rest. Use a variety of weight training equipment to change the shape of your body - no muscle gets neglected!

Intermediate




Advanced

Strength, Stability & Stretch (SSS)
Are you having trouble with your balance? Would you like to tone? Give the SSS Class a try! This workout is the perfect class for those who are just getting started or easing back into a Fitness routine. Class focuses on balance, toning, and flexibility.

Beginner

Tabata Sculpt
Extreme calorie burn with this Tabata –inspired workout, 20 second bursts with 10 second recovery. Go breathless alternating between heart pumping cardio drills and total body resistance drills.

Intermediate




Advanced

Total Body
Perfect for those who need a quick work out during their lunch break. You will be amazed on how great you will feel after this 45-minute class. You will work every muscle from head to toe, and still get back to work on time!

Intermediate




Advanced

Triple Treat
A class designed just for you! A combination of Low Impact calorie burning aerobics, Body Sculpting and Core Conditioning in one Flab-U-Less hour!

Intermediate

Water Aerobics
Water Aerobics is a cardiovascular exercise that tones, trims and strengthens muscles, improves flexibility and builds endurance without putting stress on the joints. Water Aerobics classes are handicap accessible. Beginner to your own pace.

Beginner

Yoga
A class suited for all levels of fitness and flexibility where body and mind become one. This class will relax you, as you improve your balance, strength, and posture; Yoga will also increase your range of motion and flexibility.

Beginner




Intermediate



Barre
Shape & strengthen with elegance as you tone and condition your legs, glutes & core, focusing on form and proper biomechanics. Our 45-minute Barre classes are challenging yet low impact and easy on the joints. Sweat never looked so good!

Beginner

Cardio Barre
Cardio the Barre way. Grab your weights and a bar (or chair) to get your sweat on, torch calories and sculpt a strong and lean body.
Express Barre
This class features efficient and effective 30 minute workouts that are high energy and low-impact. Like Barre, the workouts will help you sculpt a lean and strong physique. You will just do it in a shorter amount of time.